Who looked at their feed last summer and thought How is literally everyone in Italy right now? FOMO-stricken and restless, I decided it was time to get in on the far-flung-getaway game. On my personal travel checklist: romantic landscapes, Italian grandeur, refreshing spritzes, and (most importantly) plenty of carbs. The perfect location to tick all the boxes: Lake Como. My home base for three nights would be the Grand Hotel Villa Serbelloni, a family-owned hotel in a former palazzo located in the ancient, bustling town of Bellagio. It's a locale marked by pedestrian-only alleyways, winding stone stairwells, and cozy family-owned wine bars. Lake Como is shaped like an upside-down Y, and GHVS sits right in the middle of that Y, meaning unparalleled views of the Italian Alps to the north and beautiful towns dotting the shoreline before disappearing into mountains to the east and west. Book here.
Getting to Lake Como is actually pretty easy from the Milan airport. Public transit will take about two hours via train to Como city, then buses, ferries, or taxis are all easy to grab from there. A huge advantage of staying at GHVS is that it's a breeze to access via mass transit from Milan via a high-speed train to a ferry or bus. My accommodations hooked me up with a taxi to the airport on the way back which was only 1.5 hours, but fair warning—private cars are super spen$y.
(JSYK: The author and her boyfriend received a free stay, meals, and activities from the hotel in exchange for reviewing it.)
More From Cosmopolitan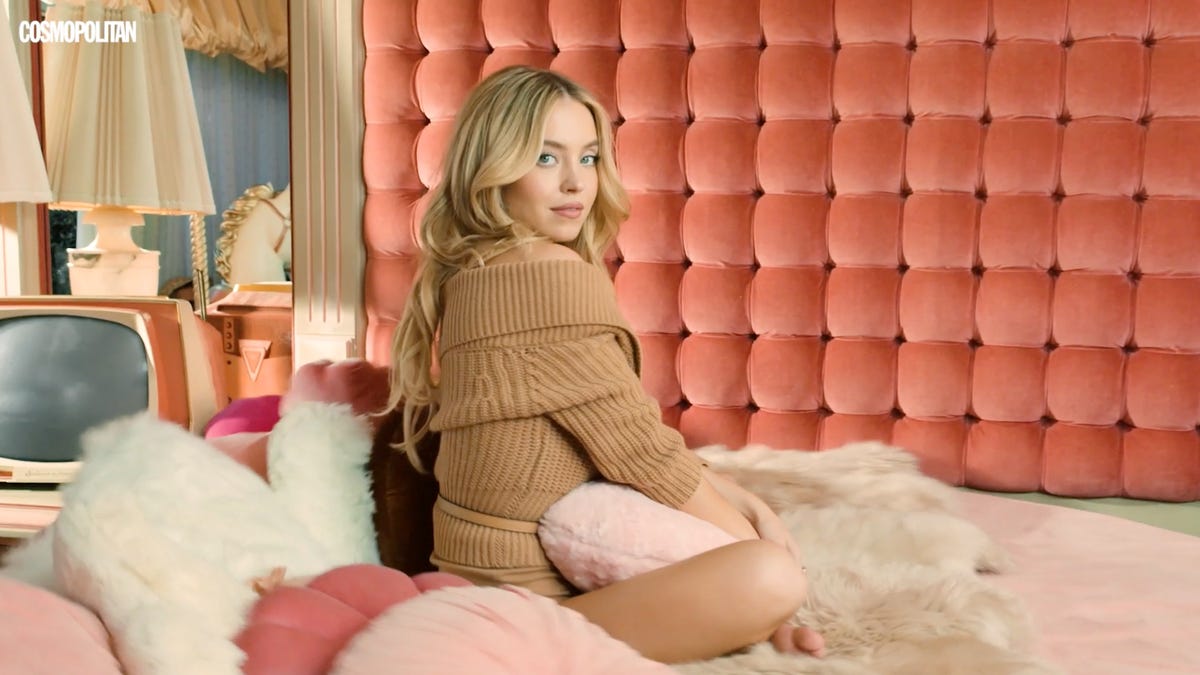 La Dolce Vita Essentials:
---
Stay
Since Lake Como was a bucket-list spot for me, I wanted to lean all the way in by staying somewhere that gave Italian grandeur and cinematic opulence. GHVS fully delivered. A historical palace dating back to 1873, the hotel has been in the care of the Bucher family for more than 100 years. What does that mean for me? One hundred years of practice-makes-perfect hospitality. AKA, you're in for a world-class vacation. Picture gold-leaf ceilings, stone terraces, and ornate antique furniture in the lobby and ballrooms.
When I entered my suite I beelined to my private terrace to survey the view that overlooked impeccably curated gardens. A few yards beyond that was the lake itself and giant, tree-covered mountains, the bottom of which were speckled with villas of the rich and famous.
First things first, a terrace photoshoot:
After taking it in with a sigh and starting to believe that I was actually in the middle of a postcard, I surveyed my suite which featured a Versaille-worthy sitting area, marble bathroom, and giant soaking tub.
---
Play
If you can't decide between direct lake access and cozy, center-of-town town vibes, you won't find a better location than GHVS. The villa is on the perimeter of Bellagio, which is the largest town, making it easy to spend a few hours shopping at the quaint, family-owned storefronts. Take a short walk to the nearby villa and botanical garden, I Giardini di Villa Melzi, or spend the afternoon sipping wine at a local shop.
Ok, back to the private beach—very few properties on the entire lake can boast that they have direct access to the lake via a beach, and a glamorous pool. Since I never had to choose between the two, I spent several hours each day moving between the bodies of water. I swam out to the dock to take in the unbelievable view of the snow-capped Italian Alps that look almost fake behind the glacier-made sparkling lake. After a few minutes of asking myself, "Is this place even real?" I swam back to the pool area for one of the hotel's signature spritzes.
Did you even go to LC (Lake Como, ofc) if you didn't go on a boat ride? The hotel treated my boyfriend and I to a cruise on the lake in an antique Venetian boat. Seeing LC from the water is the best way to take in the lake—we drifted past famed villas that were once used as movie sets, and got a peek at the old-world towns nestled in front of the mountain range.
---
Eat
Grand Hotel Villa Serbelloni offers a special dinner reservation called the Mistral Experience. My bf and I were treated to the most romantic meal of our lives on our first night, which happened to have the most perfect sunset. Our table was positioned on the edge of the open-air terrace overlooking the lake. While I think (?) we talked during that meal, I'm not entirely sure because we were both so enamored with our surroundings.
Mistral's chef, Ettore Bocchia—who is known for bringing molecular cuisine (read: fahn-cy) to Italy in 2000—won a Michelin Star at the restaurant in 2004. We had a tasting menu that included fresh fish caught from LC, caviar, and ice cream, all paired masterfully with Italian wines.
As for other memorable meals? I ate my mid-day meals at the poolside restaurant La Goletta or on the my terrance. Basically, the week was a blur of lobster tagliatelle and summer truffles.
Remember those spritzes I mentioned earlier? Despite the internet's recent discovery of a sbagliato (stunning), GHVS has been serving the aperitivo as a signature cocktail for ages. And JFYI: Italian bevs are the perfect accessory for any outfit: sbagliatos in a bikini, Negronis for your sexy pre-dinner dress, and bellinis for the classy-but-casual-and-maybe-a-little-hungover brunch jumpsuit. And let me introduce you to my new favorite drink: The limoncello spritz. And if I learned anything on my trip, it's that pairing a citrus-forward bevvy and an Italian landscape just makes sense.

Art Director
Katie is the digital art director at Cosmo, where she creates visuals for the site and occasionally writes about travel, wine, and even why a portable bidet changed her life. She has a detailed Google map of the best bars and restaurants for every city, firmly believes The Bachelor is the greatest sport of all time, and is constantly redecorating her NYC apartment. Follow her on Instagram and TikTok.