While a recent poll by the National Centre for Social Research (NatCen) showed public support for the monarchy has fallen to a historic low, the booming sales of coronation merch perhaps begs to differ.
On Saturday, a new British monarch will be crowned for the first time in 70 years, and retailers have been quick to churn out limited edition pieces to celebrate King Charles.
At John Lewis, a coronation teddy bear (£15) sporting a gold crown and purple cape with a Dalmatian print trim has been so popular that the retailer has had to limit sales to two per household. When it first launched in March, the store claims it was selling one bear per minute. On eBay, sellers are listing bears for more than double the retail price.
Elsewhere, the British ceramics manufacturer Emma Bridgewater has sold more than a million of its mugs featuring a sponged King Charles III motif since they launched in February, and the official Royal Collection Shop has sold out online of tea towels, tankards and coffee mugs. At the time of writing, a pin badge, fridge magnet and set of gold-plated teaspoons were ranked most popular on its site.
Typically royal images and the coat of arms cannot be used for commercial products without permission from the royal family. However, Buckingham Palace relaxed the rules to allow the use of official insignia on coronation souvenirs. The only directive it gave was that items must be free from advertising, carry no implication of royal custom and approval, and be "in good taste".
As a result of the loosening of the rules – and many different interpretations of "good taste" – you'll find everything from makeup bags emblazoned with "God Save the King" to light-up Westminster Abbey cushions and union jack-embossed loo rolls. You can even buy "Coronation Flakes" – a £30 commemorative cereal box that its inventor said are filled with cereal from Lidl (and you can buy with or without the actual cereal).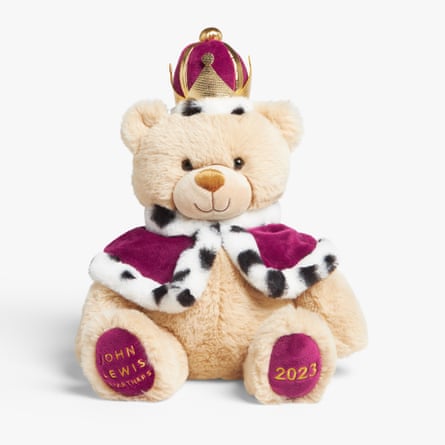 The Centre for Retail Research reports that the coronation will boost consumer spending by £1.4bn, with more than £245m from souvenirs and memorabilia (cups and crockery are set to rack up £3.8m of this figure).
Merch and the royal family have strong historical ties. A flask was created in the 1830s to celebrate Queen Victoria, while canned beer was produced for King George VI's coronation in 1937 and Prince William and Kate Middleton's faces were peppered on everything from biscuit tins to tea caddies when they married in 2011. Unlike previous memorabilia, much of the coronation merchandise doesn't actually feature Charles's face. Instead, the flora- and fauna-inspired coronation logo or royal iconography such as whimsical drawings of corgis dominates.
A spokesperson for Emma Bridgewater says coronation sales have been more than double those for the Queen's platinum jubilee last year and much bigger than sales for William and Kate's wedding.
While enthusiasm for the actual monarchy is low, the coronation just happens to fall when enthusiasm for general merchandise has never been so high. We are living in a somewhat unofficial age of it, from the White House to the Labour party to beauty brands such as Glossier and even restaurants, pubs and delis. Branded hoodies, T-shirts and tote bags have never been more coveted.
However, while people are keen to swear their allegiance to their favourite wine shop, many buying royal merch it seems are less keen to express such piety to Charles.
"I have no affiliation with whatever they stand for" says Holly, a freelance writer who has a framed picture of Queen Elizabeth II on her coronation throne in her downstairs loo "for lols". She has bought multiple jars of Waitrose's berry coronation jam and an embroidered red and gold crown-shaped Christmas tree decoration. "I just love kitsch merch," she says. "And as a nation we really excel at it for royal events."
Isabelle Szmigin, a professor of marketing at the University of Birmingham, says buying coronation merchandise for the novelty factor is becoming more common.
"People are using it in a way that is saying, 'This is the culture I have to belong to because I am British but that doesn't mean I support it'." This is when you will get people also using these items "in an ironic way", she explains, citing an example of employing a King Charles mug as a toothbrush holder in a bathroom.
Szmigin adds much of the memorabilia also taps into the creation of nostalgia: "The idea that we are living through something historic is part of the desire to mark it in some way and the obvious way is through purchasing. The fact is, we live in a consumerist society."
If you want to read the complete version of this newsletter please subscribe to receive Fashion Statement in your inbox every Thursday.