Undies, smalls, panties. For something as universally worn as knickers, buying them is a strangely confusing experience. The main issue is sizing: you can't try them on and, given there is no industry standardisation, it's essentially pot luck.
But it's also about what we need from them at any given time. Maybe you've just given birth, maybe you've got your period, or maybe you've finally got back into those jeans but don't have anything to wear underneath. The idea of having a wardrobe of knicker styles for every occasion seems ludicrous but, equally, there is no one size fits all. Our experts answer your most pressing pant questions.
Does anyone wear thongs any more?
Amazingly, yes. M&S has seen sales go up in the past two years, particularly among younger shoppers, thanks to the return of low-rise jeans. "Not everyone finds them comfy but the evidence shows they have no effect on the pH of the vaginal microbiome, which we need to protect us," says Louise Rahmanou, women's health specialist at Practice for Women in Cheltenham. "If you want to wear one, go ahead." They can take some getting used to, though. "If irritation occurs, wearing cotton or bamboo versions can help," says Dr Leila Frodsham, consultant gynaecologist and spokesperson for the Royal College of Obstetricians and Gynaecologists. M&S thongs are in a mix of modal (from beech tree pulp) and cotton, which seems, anecdotally, to be the most comfortable fabric for something that tight.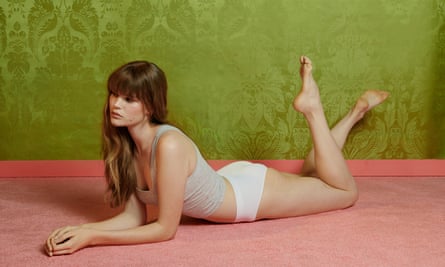 Should I only wear cotton knickers?
No one needs reminding that our vulvas are delicate. Tight clothing, knickers included, can irritate the skin – while "synthetic underwear can create an environment that changes the microbiome and may make candida [thrush] more likely to thrive", says Frodsham. "Wearing undyed underwear in cotton or bamboo can help reduce the chances of thrush occurring, as they are more breathable." And, where possible, white knickers are preferable. "Dark-coloured underwear contains more allergens than undyed products," she says. But more important than the fabric is how you wash your knickers – Rahmanou suggests a hypoallergenic soap.
What's the closest to going commando without actually going commando?
"Go for something with a lot of coverage, like Spanx shorts or even an all-in-one body shaper," says Guardian styling editor Melanie Wilkinson. This may sound counterintuitive, but that way you get "next to no bumps and the appearance of no underwear", she says. Fashion editor and knicker expert Naomi Pike has two options: "With something skintight I'll wear a seamless thong or a full-coverage brief that's got zero VPL."
Where are we at with period pants?
Period pants are knickers with extra-absorbent fabric in the gusset. They're not always meant to replace sanitary products, rather supplement them, and are sold everywhere, from Primark to John Lewis. They have seen a particular boom since Covid. Ideally you want something cotton because it's more breathable. M&S says period pants are its fastest-growing range and, like other brands, it sells them with leakproof bags for if you need to change them. Rahmanou is a fan: "They're just better for the environment than sanitary products," she says, "though the focus should be on what feels comfortable."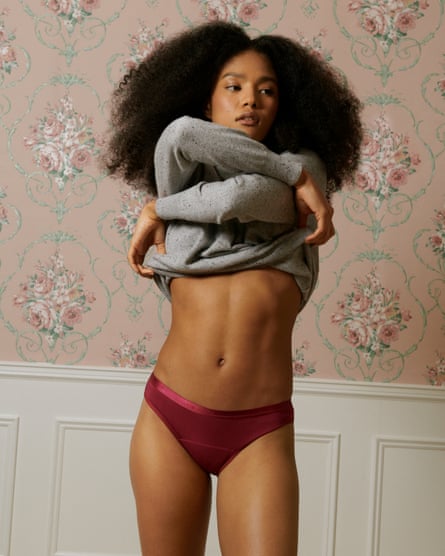 What about the menopause?
When it comes to the menopause, the main issue is vaginal dryness, says Rahmanou. "This can lead to chafing and discomfort, so you may be better off buying knickers that can handle vaginal lubricants and moisturiser." Try Modibodi.
Sweating can also be an issue, in which case go for something natural and comfortable like cotton. Frodsham agrees: "Synthetic or tight fabrics can cause more discomfort and irritate the skin."
What are the best knickers to wear after you've had a baby?
What knickers you wear in those early days depends on how you gave birth, and your recovery. For C-sections, you'll want something with a high enough waist to not rub on the wound: Cantaloop briefs (from John Lewis) sit just below the belly button. Cotton tends to be the most breathable fabric, but a lot of C-section underwear comes in polyamide, for lots of give, which may be more of a priority.
For all deliveries, there's also the issue of knickers being big enough to fit a maternity pad. Modibodi does various shapes in absorbent fabrics, and some have an antimicrobial lining that helps with odour and bacteria. Both are relatively affordable – ideally you'll only need two to three pairs – and come in generous sizes.
Of course, good intentions aside, you may want to go for something disposable. Frida sells shorts-style briefs for vaginal births and high-waisted ones for C-sections. Designed by mother-of-four Chelsea Hirschhorn, and based on her own recovery, they come in breathable microfibre and spandex – hospital versions tend to come in mesh and latex, which, for some, can irritate.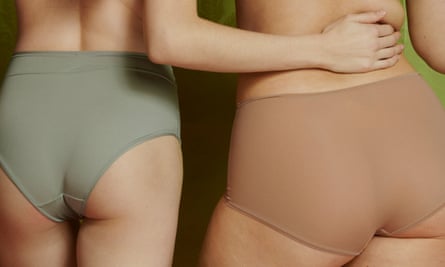 What's the best size-inclusive underwear?
Market researcher Mintel defines plus-size as a size 18 or above. While the high street usually goes up to about 20, an increasing number of indie brands are deliberately designing nice knickers with larger sizes in mind. We Are We Wear make very sexy underwear that goes up to 3XL, which is about a size 28-30, as does Cuup, if you prefer a more modest cut (it specialises in no-dent, high-stretch waistbands).
Wilkinson also suggests Skims, and Savage x Fenty. If you find shopping for knickers daunting, remember that "the sizing always comes up a little bit small because of the job the elastic needs to do", she says. "For a clean line under bodycon or silk dresses, I'd always size up."
Where are we at with shapewear?
Shapewear used to mean pain, discomfort and fraught loo trips (once off, they're hard to get back on). But modern products are a lot more wearable, and sales of everyday designs that focus on "minimal seams and no VPL" as much as suction rose by 55% between 2021 and 2022 at M&S. Pike has been wearing them since she was in her mid-teens. "Eighty per cent of my pants now have support," she says.
Pike's favourite brand is Skims, but Wolford and even Spanx have upped their comfort game. A new category is anti-chafe wear, offered by Next, Lululemon, Modibodi and M&S, which sold almost half a million pairs in 2022. These pants are less about sucking in and more about preventing rubbing, and are likely to be in polyamide rather than cotton, so that's something to bear in mind. As for fit, the higher the waist, the less likely it is to roll down.
Should I sleep in knickers?
Yes and no. "Sleeping without underwear may be beneficial for women with thrush, as the infection thrives in warm, moist parts of the body," says Frodsham. For the rest of us, it's about comfort, and just pyjama bottoms is a nice halfway house, says Rahmanou. "If you're ovulating, you produce more discharge so you might prefer knickers at night."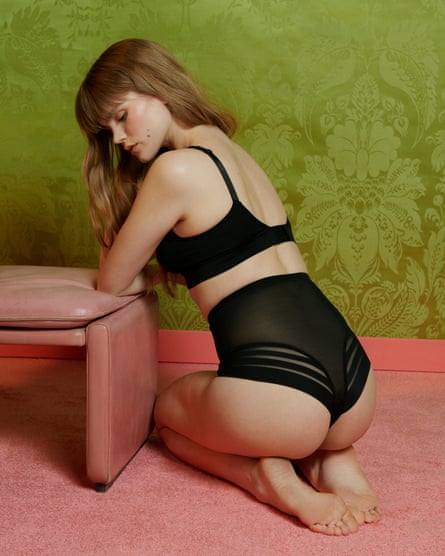 Do nice 'sexy' knickers exist?
Without conflating elastane and empowerment, there's something to be said for knickers that make the wearer feel good. And, therefore, sexy. "We should never underestimate how much our underwear affects how we feel," says Rahmanou. Newer brands seem especially good at this, and Pike recommends Parade, CouCou Intimates, and Underdays, which focus on comfort and accommodate different body shapes – and so are "more representative of our times than a frilly Brazilian".
Wilkinson is a fan of Dora Larsen, which makes flattering, lace-led underwear in unobvious colours: "So very much made with a female gaze in mind". Don't expect any red or black thongs. "I also think a sheer full knicker is pretty sexy," she says, pointing towards Agent Provocateur. "Think full, practical coverage but with a bit of a wink."
What are the best knickers to wear with … gym leggings?
Wilkinson says: "Sweat-wicking knickers are particularly good for wearing to the gym: you want to avoid that sweat stain on your favourite leggings. Plus they just feel much fresher." Try Modibodi or M&S.
A good alternative, she says, is a Brazilian-shape knicker: "These are halfway between a thong and a knicker, but with wide sides." For others, including Pike, the only gym wear is a thong. Lululemon, Sweaty Betty and M&S all sell cotton-based thongs with a "breathable" finish, perfect for those prone to a sweatier workout.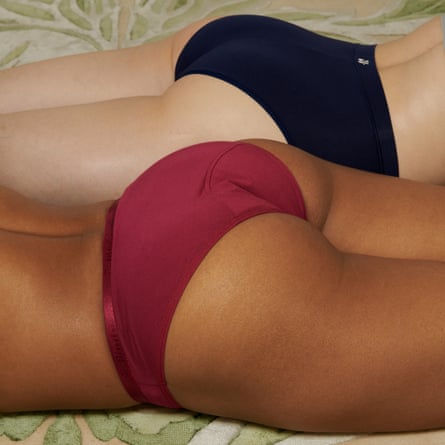 … or tights?
Wilkinson suggests high-waisted knickers in a lacy fabric. "These will offer something for the tights to cling on a to a bit, so they don't keep slipping down."
Pike says she tends to buy hosiery with some support so that she can wear a more relaxed knicker but still get support from the tights: "It's much more subtle and it makes me walk a little taller. I want my knicker line to sit exactly at the waist where my tights reach – it's just generally neater for layering on top, and I have yet to have a pair roll down on me when I do this,", she says. "It will probably mean reaching for a much fuller coverage pant, but I would recommend this, especially for anyone who's on the curvier side."
… or jeans?
Largely speaking, high-waist cotton knickers are best. "One of the biggest fashion trends to influence underwear is the high waist, particularly on jeans," says Soozie Jenkinson, head of lingerie design at M&S. "Any knickers with a high-waist silhouette work well." Wilkinson agrees: "I'd go for a classic cotton high-leg knicker."
VPLs aren't a big concern with jeans, but comfort is. What you wear is largely dependent on your body, says Rahmanou. "You can wear synthetic but if you are prone to thrush or UTIs, you want a breathable fabric like cotton." This is not a time to go commando. Frodsham says: "Underwear can act as a protective layer from rougher fabrics such as jeans."
Models: Amelia, Serguelen and Grace at Milk Models. Hair: Rom Sartipi using Oribe Makeup: Sophie Higginson using Noble Panacea and Tom Ford Beauty. Fashion Assistant: Roz Donoghue.