Libraries are usually quiet places where people go to study or relax, but on Thursday night the American luxury brand Coach broke from protocol when it kicked off New York fashion week by staging its spring/summer 2024 collection at the New York Public Library, the second largest public library in the US.
Instead of shushing librarians and hardback chairs, there were plush velvet lined benches and celebrities including the actor Jennifer Lopez and the rapper Lil Nas X.
However, it was an unexpected appearance from campaigners for the animal rights organisation Peta that attempted to cause the biggest disturbance.
Two female protesters, one wearing a flesh-painted bodysuit and another carrying a placard reading "Leather Kills" briefly joined the models on the catwalk before being led away by security. The intervention came after Peta declared in July that it was aiming to make the use of wool and leather as unacceptable as fur.
Many see this as an unattainable goal. Leather goods are the cornerstone of the success of the majority of luxury brands and while faux leather is often hailed as a vegan alternative, options such as "pleather" are derived from plastic and petroleum-based materials.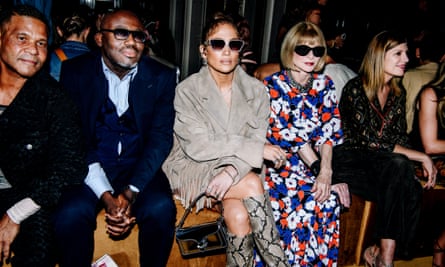 However, with brands keen to entice Gen Z – a cohort of consumers that will represent 40% of the luxury goods market by 2035 and one that is increasingly concerned about sustainable fashion – the race has begun to find a way around this leather conundrum
Speaking before the show, Coach's creative director, Stuart Vevers, described the catwalk as "a place to experiment with new concepts in sustainability".
In April, it launched Coachtopia, a sub-brand featuring bags made from leather destined for landfill. On Thursday, it took it one step further with a large number of the clothes including biker jackets and short, strappy dresses, made by repurposing existing leather including dead stock and leftover factory floor scraps. Other pieces were made from items that customers had donated to its in-store recycling initiative.
In an era where secondhand shopping has become a new type of humblebrag, it's also a clever way of appealing to a customer who wants to buy something new but does not necessarily want that piece to look brand new.
Vevers said this season was about "stripping back to the essential designs and quality materials". This included handbags, such as its bestselling Tabby bag, which Vevers envisions "still being used in another 50 years". Starting from £250, it's a price point that is considered a sweet spot for luxury.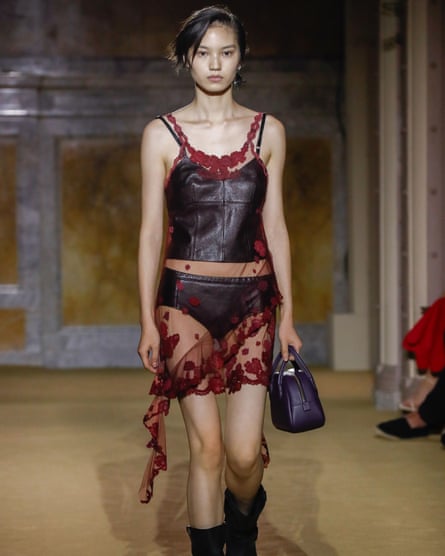 The collection marked the 10th anniversary of Vevers' tenure at Coach. Despite spending a decade as a Brit in the city, Vevers said he was keen to maintain "an outsider perspective". He is known for an ongoing fascination with Americana, an interest first fueled by watching American films as a teenager in Doncaster.
Instead of a retrospective of looks, Vevers explored his own personal memories of arriving in the city as a graduate during the 1990s. Grungy slip dresses were inspired by the girls he used to dance with at the Pyramid Club in the East Village, a mecca for artists, musicians and drag queens. A T-shirt emblazoned with "Donohue's Steak House" was a nod to his favourite restaurant, which first opened in the 1950s.
Coach is part of the Tapestry group, which also owns Kate Spade and Stuart Weitzman, and last month announced it was acquiring Capri Holdings, the owner of Versace, Michael Kors and Jimmy Choo.
The $8.5bn (£6.8bn) deal marks one of the biggest attempts in American fashion to create a US-based luxury fashion conglomerate to rival European giants such as LVMH, home to Louis Vuitton and Dior and Kering, which owns among others Gucci and Saint Laurent.
Coach under Vevers' creative direction has become Tapestry's most successful brand. It generates nearly three-quarters of Tapestry's revenues and while in August Tapestry reported net sales of $6.66bn in 2023, a slight drop from $6.68bn in 2022, sales at Coach grew 5% in the fourth quarter.