Sienna Miller is to star in a television ad as the new face of Marks & Spencer.
Miller eats chips in a baseball cap (price tag: £12.50) from a hotel room service trolley, reads a London fashion week report in a broadsheet newspaper, and makes a grand exit via a marble staircase wearing head-to-toe lime green (the shawl-sized scarf is £17.50).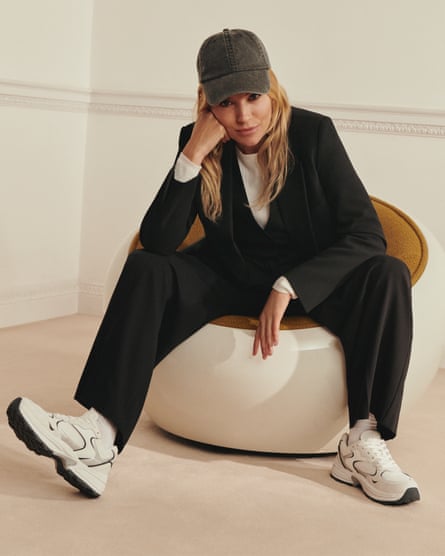 It may not be the most challenging role for a Bafta-nominated actor, but it is one M&S hopes will inspire customers to "make exciting fashion choices" as the high street retailer fights to reclaim its position as a leader in British fashion, says the womenswear director Maddy Evans.
Miller's wardrobe has been one of the most copied in the world for two decades, since she burst on to the style scene as the poster girl for "boho chic". The actor, who has recently moved back to London from New York, lists Percy Pig sweets alongside pubs and the British sense of humour among what she missed most during seven years living abroad.
"I have always had a genuine love for Marks & Spencer, a brand that is part of the fabric of British life and holds special associations for so many people," says Miller. Like many British women, she has strong memories of her first bra fitting at the store, and a favourite M&S jumper – in Miller's case, bright green – that she returns to every autumn. She picks a classic single-breasted tweed blazer in warm neutral tones, on sale for £75, as her favourite M&S piece of the new season.
The partnership marks the first time M&S has named a fashion "face" since Emma Thompson and Rita Ora starred in a Leading Ladies campaign nine years ago. Miller is "in her 40s, an authentic, independent character and a working mother" whose understated off-duty style feels "relevant and relatable" to the M&S customer, says Evans, adding that Miller speaks to a customer who does not slavishly follow trends, but cares about style.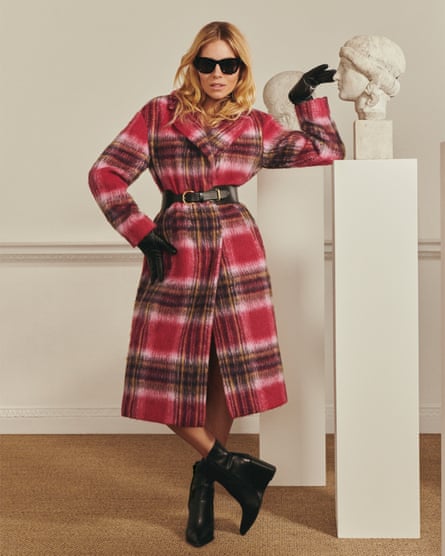 "That woman could be 35 or 75, but she wants to feel stylish and relevant. She wants clothes that enhance her confidence when she's being social," Evans says. "She loves time with friends and family and she wants to feel good about herself at those moments."
Hero pieces of the new collection include silver leather trousers at £199, which will be in store in time for the party season. "Christmas is hugely important to our customer – she's still concerned about budget, but she wants sparkle and glitz then and she will protect that at all costs," says Evans. A return to "true coats" after several winters dominated by quilted and puffer styles is seen in the fluffy tartan red wool coat Miller wears, accessorised by chunky boots and a leather belt, in the new campaign.
Other current bestsellers include "blackout" leggings for yoga. "Yogawear is a growing category for us," says Evans. "And our customers want a legging that doesn't show your underwear when you are in downward dog."