We have become accustomed to seeing Naomi Campbell, one of the original supermodels, on the catwalk for high-end brands such as Prada and Versace, and in adverts for Chanel and Burberry.
Campbell has become so synonymous with luxury fashion that her latest venture, a collaboration with the fast fashion giant PrettyLittleThing (PLT), launched on Tuesday, has left both fans and fashion insiders perplexed.
With a reported personal net worth of around £70m, the decision to team up with a site that sells tops for £1.50 and uploads more than 100 garments per day, has angered many of her fans. "This is honestly awful. She could have had any brand in the world. Respect is lost," one person commented on Instagram. The launch also coincided with the start of Secondhand September, an Oxfam initiative, to encourage the purchase of preloved clothing.
"Gen Z can sniff a sponsorship from a mile away," says Andrew Roth, founder of dcdx, a strategy and advisory firm. "To Gen Z, this may look like a clear demonstration of an icon choosing money over meaning, and Gen Z does not tend to stand for that type of inauthentic action. It may appear as a betrayal – to Gen Z as much as it is to Naomi herself," he says.
The brand, owned by the British company Boohoo Group, has been criticised in the past over its ethical trade practices including workers pay and environmental issues in the fashion industry. Its cheap clothing, made from materials that are plastic and petroleum-based, is sold online in the UK, US and Europe. During one Black Friday sales event, it reduced the prices of some dresses to just 8p.
Campbell launched her collection at a catwalk show in New York. Emily Ratajkowski and Julia Fox sat front row, with Campbell walking the catwalk herself in a long backless mesh dress (£85). Online there are 82 different pieces for sale as part of the collection including a bodysuit (£12) and ruched mini dresses (£25). Two of the dresses were created by emerging Black designers, Victor Anate and Edvin Thompson.
PLT, which has previously collaborated with reality TV stars such as Love Island's Molly Mae-Hague (pictured below), described its involvement with Campbell as "ground-breaking."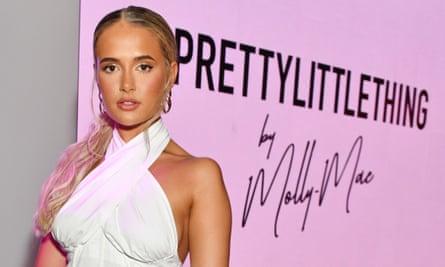 Campbell's decision to actively align herself with PLT jars against a wider trend of celebrities attempting to distance themselves from mass produced brands. The popstar Olivia Rodrigo has fronted a campaign for Depop, Billie Eilish says she prefers to shop for secondhand clothes, while last week the actor Naomie Harris launched a collection of dresses made from deadstock materials with London brand Omnes.
While, Gen Z are regularly dubbed "the sustainability generation", just like any cohort they are multifaceted. Many prefer or have little choice but to buy from fast fashion sites. In addition to being cheap, these sites are often more size-inclusive. For example, Campbell's PLT collection runs from a UK 4 to UK 30.
However, historically fast fashion has comes not only at a cost to the environment but also to the workers making the clothes. In July 2020, the Sunday Times claimed that staff at Boohoo's Leicester garment factory were paid below minimum wage, as low as £3.50 per hour. In December 2020, the Guardian reported that Boohoo was also found to be selling clothes made by Pakistani workers who earned 29p per hour.
Campbell, who describes herself as a "changemaker", said in an interview with W Magazine, that her main motivation to team up with PLT was the opportunity to champion emerging talent: "If I can get them on the platform, and get the light shone on them, and give them a helping hand in their career … that makes me happy." In a subsequent interview with the Daily Mail, she said that another factor that led to the collaboration was a desire to design her own clothes.
In the magazine interview she also suggested that much of the criticism that her decision had drawn was race-related. "Do they say anything when other Caucasian models have worked with fast-fashion brands and done collaborations? They've said not a word. They've praised them. So why are they coming for me?"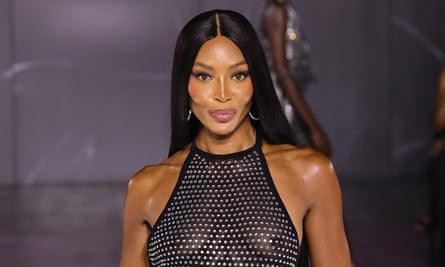 But Campbell overlooks the fact that fast fashion is inherently linked to racism. Of the 74 million textile workers worldwide, 80% are women of colour. Writing in the Guardian in 2020, Kalkidan Legesse said: "The fashion industry makes huge profits from the exploitation of black and brown women. It is the millions of black and brown people making our clothes in factories thousands of miles away who bear the heaviest burden."
Last year, the Game of Thrones actor Maisie Williams was widely criticised for joining H&M as a global sustainability advisor, while British Vogue described Kourtney Kardashian's similar appointment at Boohoo as "another blatant attempt at greenwashing in the fashion industry". When Hague staged a show in London last February, protestors gathered outside the venue.
The collaboration "gets right to the heart of the issue we're facing with sustainability," says Rachel Arthur, a sustainability consultant. "Ultimately, if you are a role model, especially one with the financial means to do things differently, it would be good to see choices made that are the most responsible ones possible.
"If it's about bringing a platform to other emerging talent, there are also a myriad of alternatives that would achieve the same thing. The ongoing collaborations we're seeing in the fast-fashion sector which promote hyper consumption are not going to get us there."
To read the complete version of this newsletter – complete with this week's trending topics in The Measure and your wardrobe dilemmas solved – subscribe to receive Fashion Statement in your inbox every Thursday.