Earlier this year, a frenzy of unisex affordability gripped TikTok's menswear followers when a series of videos championed a stretchy, sleeveless vest from the women's section of Target, the US supermarket.
Made by Good Day, male influencers took to the platform to praise the $8 (£6.40) price, its comfort (courtesy of a cotton/spandex mix) and how the design complements the male physique. "The black one in particular is the ideal gym tank top," said Xander Torres, 30, a Vancouver waiter and menswear blogger in one of his videos. "The way that it's cut does a good job of accentuating your shoulders and chest. Like, I feel hot in it – and that's what you want."
The humble tank top – renamed by gen-Z as the wife-pleaser or wife-respecter, rather than wife-beater – is already enjoying something of a renaissance in the men's style arena. Over the past year, thanks to countless images of Jeremy Allen White from The Bear, as well as the catwalks of Bottega Veneta, Dolce & Gabbana and Ami, sleeveless vests have played a starring role. Last year, Prada released a women's white cotton tank, priced at £690 – but was worn by men too, and, despite the price, sold out in every size. In July, GQ magazine told readers to forget everything they knew about vests, as they were "the hottest thing to be wearing this summer".
The rise of the Target tank is also indicative of a wider shift in the way men are buying clothes, with some drifting towards the women's section for the fits, colours and finishes that men's collections simply don't offer.
For a decade, it has been the other way round. "Men's clothing keeps women's clothing art arm's length, whereas women's clothing reaches more towards men's clothing", says Rich Legate, 34, a musician in London, who shops in both men's and women's sections. He believes there is more nuance in womenswear, that it lends itself more easily to personal styling choices. By contrast, in menswear: "There's no subtlety or consideration that you might want to accentuate your body in some way," he says.
Legate recently set out to buy flared jeans that met his requirements – high-rise with a subtle flare on the leg – and eventually settled on a women's pair from Levi's. "There was no chance of finding them in the men's section," he says, noting that most men's jeans are "very normal", with little in the way of a considered shape or finish. "I'm more likely to find them in the women's section, so that's just the route you go down."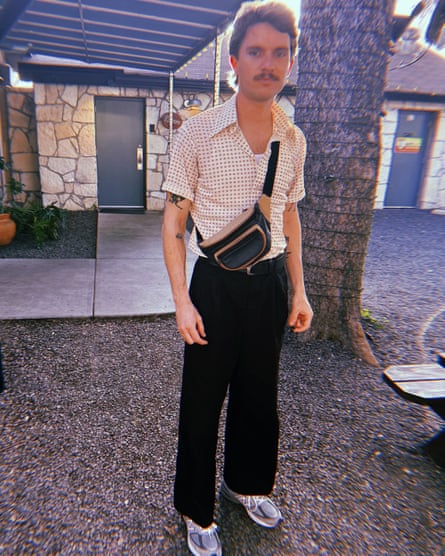 Throughout history, men have dressed across the gender divide, most notably as part of drag culture, which is generally understood to have emerged in the theatre in the late 16th century, and is now a major part of mainstream culture. In the 60s, the revolution in youth culture saw men sporting floral blouses, silk scarves, pussy-bow collars etc. In the 70s, musicians such as David Bowie and punk encouraged a culture of sartorial androgyny that reached its peak with the new romantics, while in the late 80s and 90s, masculinity was consistently challenged by designers such as Marc Jacobs and Jean Paul Gaultier, famously the first to dress men in skirts on the catwalk.
High fashion is decidedly fluid, and while gender-specific collections still serve as a structure for the industry, unisex clothing is on the march. According to a 2022 study by Klarna, the Swedish financial services company, 70% of consumers have expressed an interest in buying gender-neutral clothing in future, and unisex brands such as Telfar, Entireworld, MC Overalls and Riley Studio plan to meet the demand.
But the notion of men buying women's clothes because they are better is much newer, and potentially highlights a lag in the way men's clothes are made and marketed. It's not simply slim men looking for slim-fitting clothing. For example, standard men's denim jeans tend to feature a 32in (81cm) inseam (if not 34in), while women's are generally 2-4in shorter (the range of waist sizes is often the same). If a man is looking for a cropped cut or a differently shaped arm-hole, why wouldn't he consider the women's section?
That goes for colour and texture, too. "Men have such homogenous fabrications offered to them [in mainstream clothing]," says the model and artistic director, Richard Biedul, 40. "Black, grey, blue or pinstripe, and there's not much choice to it. But you look at the women's offering and it's so colourful, so textured. There's always something different."
Biedul bought his first pair of women's trousers in the mid-2000s when "indie-sleaze" was big. "It was probably the same pair of trousers that every boy into indie rock'n'roll bought – the women's skinny jeans from Topshop. They didn't do them for men and I just wanted that look," he says. Biedul has since refined his taste, particularly when it comes to women's tailoring – something Prince Harry seems to have discovered, too, when he was spotted allegedly wearing Meghan's jacket – and recently picked up a chocolate-brown suit from Jil Sander, the German designer. The trousers are slim, with a high-rise, reverse pleat and built-in belt, and the jacket, while a little snug, is perfect for a silhouette that looms downward. "Some people might think it's strange to look at the women's section of a website but for me it'snatural because I know it's more flattering for my body shape," he says.
If this sounds like a one off, it's worth noting that some stores have noticed subtle spikes in men buying womenswear for themselves. Uniqlo has noted a 15% increase in the number of men buying women's items in the past four years, and at Cos, the expectation is that men will buy womenswear, and vice versa. "We have always seen our community shopping across both departments and when we create our collection, we often see pieces we believe in for all genders," says Karin Gustafsson, design director at Cos, who notes that men often buy into the brand's rounded, cropped trouser cut for women. Incidentally, there is one pair of Uniqlo women's trousers that guys seem to love: a high-waisted, pleated, wide-leg style. "I like them because they are meant to be a little baggy on the average woman," says Josh Massie, 30, a business development rep in New York, "but on an average height guy like me (5ft 10in) they line up nicely right at the top of a loafer."
Women have been buying menswear for themselves too, but while men are looking for more considered shapes, women seek volume and oversized fits. "There has definitely been a movement lately for women turning to menswear," says Amy de Klerk, digital fashion editor at Harper's Bazaar. She notes that oversized blazers are a key mens-as-womenswear garment right now, and that it is cheaper to buy from men's stores – or just borrow clothes. "Friends of mine are wearing their grandfathers' hand-me-downs for this reason exactly."
Cost is an interesting factor in this trend. Despite being almost identical, those Uniqlo women's trousers that Josh Massie loves are £5 cheaper than the equivalent in the men's section, due to a subtle difference in the lining material, says a spokesperson .
Biedul believes that buying womenswear – "Denim jackets, leather jackets: unbelievable shapes!" – can be something of a hack, such as giving men a louche, elongated, Saint Laurent look for a fraction of the Saint Laurent price. This sounds great, but feel free to start with the $8 women's tank top and go from there.
Five great womenswear-as-menswear pieces
1. Arket cropped straight leg jeans
The high-rise isn't especially high, and the crop means the inside leg sits around 29-30in – great for men who struggle with jeans being too long.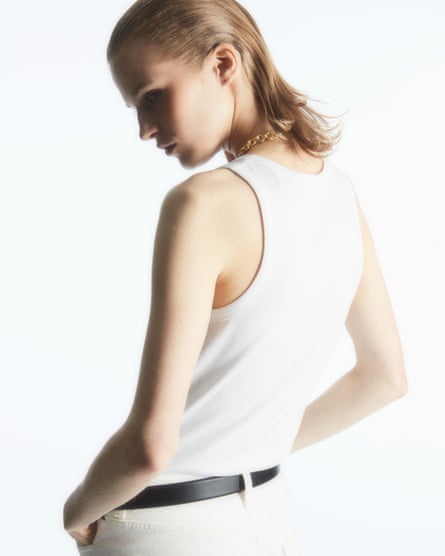 2. Cos ribbed tank top
Great tucked into jeans, peeping out from under a big, Sopranos-style shirt, or even at the gym.
3. La Ligne chunky wool sweater
Women's knitwear is shorter in the body, so works better for men who don't like folds of wool bunched up at the waist.
£190, lalignenyc.com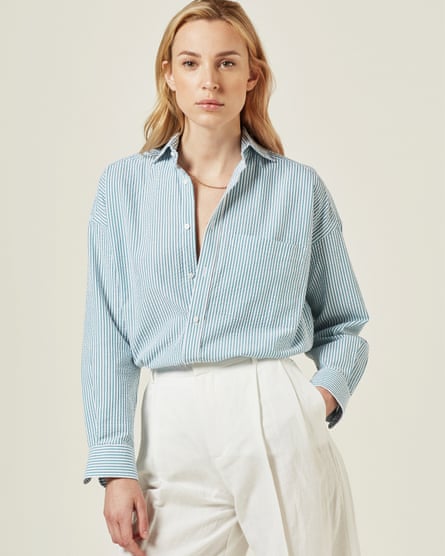 4. With Nothing Underneath seersucker shirt
It's hard to find men's shirts that are not cut slim, or long enough to tuck in, so if you want something boxier and billowier, try this.
£95, withnothingunderneath.com
5. Uniqlo pleated wide trousers
Just long enough to graze the tops of loafers – a good way in to the trend for wide trousers.