It is an all-singing, all-dancing fashion week. The jazz-hands tone that was set by Thursday's starry Vogue World "opening ceremony" continues – with a twist. London's famously esoteric fashion designers are bringing their own avant garde tastes to the trend for accessorising shows with showmanship.
The soprano Isabelle Peters soundtracked the Roksanda show, filling a circular courtyard in London's Barbican Centre with Puccini arias while modern ballgowns in juicy lime and peach silk sailed along the alfresco catwalk.
"I thought it would be magical to have a very human sound in all this concrete," said designer Roksanda Ilinčić, who counts the "rundown utopia" of the Barbican as one of her favourite buildings. The clothes on the runway were inspired by more of Ilinčić favourite buildings: the medieval monasteries of Serbia, where she was born.
This explained the headgear: austere boxed crowns, the shape worn by Orthodox priests, but draped with fabric in the style of a nun's wimple. Oh, and worn with silky neon silk-fringed shoes that batted around the ankle like monstrous false eyelashes, and sheer black stockings. To repeat: esoteric.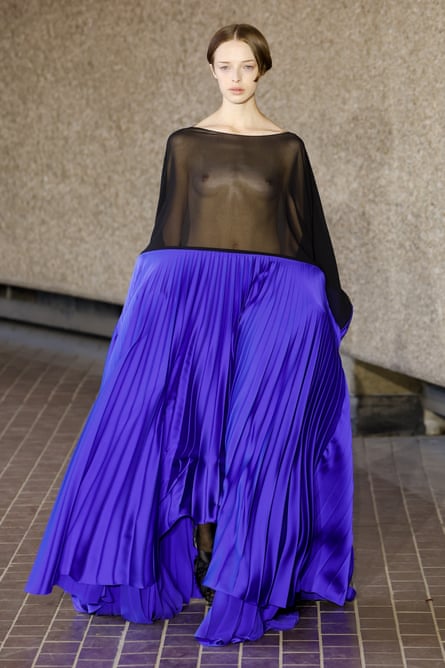 "The monasteries in the area my mum is from are famously beautiful," the designer said after the show. "I was christened in one of them. It's a heritage that's been in front of my eyes for ages but I couldn't see it."
The monasteries of Gracanica, Studenica and Kalenic have towers scalloped with miniature domes, each chequered with intricate patterns of rosy brick, and vividly frescoed within. "My clothes are known for their exuberance, so it was interesting to look at religious garments, which carry so much emotion but within a more minimal look," said the designer.
In the show, a fully covered look with body and hair modestly shrouded was followed by a contrasting dress, which was entirely sheer above the waist. "I ordered it so that the nun-like outfits were in between revealing ones that show your breasts. It is completely up to a woman whether she wants to reveal her body or cover up. That's not for anyone else to dictate. Either way can be elegant, elevated and respectful," the designer said.
In the audience was her friend and muse Vanessa Redgrave, snowy haired in a stylishly oversized turquoise blouse, who chatted to Anna Wintour while waiting for the show to begin.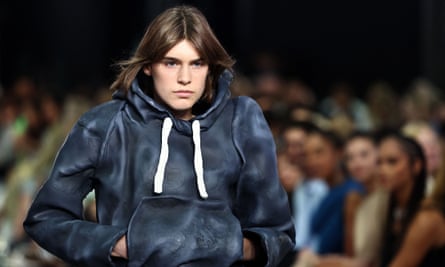 Jonathan Anderson, who was born in Northern Ireland and now divides his time between designing his JW Anderson line in London and luxury heavyweight Loewe in Paris, made hoodies and shorts for his show at Camden Town's Roundhouse out of play-dough, in order to achieve an exaggerated silhouette.
"The modelling clay exaggerates the hunched shape of a hoodie, so there's a bit of angst to it, a bit of toughness. It's about an attitude."
But beneath the artistic flourishes were the bones of a real, wearable wardrobe: knit dresses, bomber jackets, cargo pants. "I want truth and simplicity in the collection too," said Anderson. The soundtrack, which ranged from Fred Again to Cher, was simply "the music we were listening to in the car all summer", he said.