The scene before the biggest show of London fashion week was quintessentially British: an orderly queue for tea, coffee and eccles cake. Britishness, along with trenchcoats and checked scarves, is what Burberry stands for. This is surely the only catwalk show where Hollywood action hero Jason Statham, acclaimed choreographer Wayne MacGregor and Arsenal striker Bukayo Saka can be found rubbing shoulders in the front row.
The first look on to the catwalk was a trenchcoat. The trench is a Burberry staple – but this had a notably slimmer cut, an elegant dropped-waist silhouette, and was black rather than beige. There were more trenchcoats to follow: some sleeveless, some leather, all of them sleek and minimal.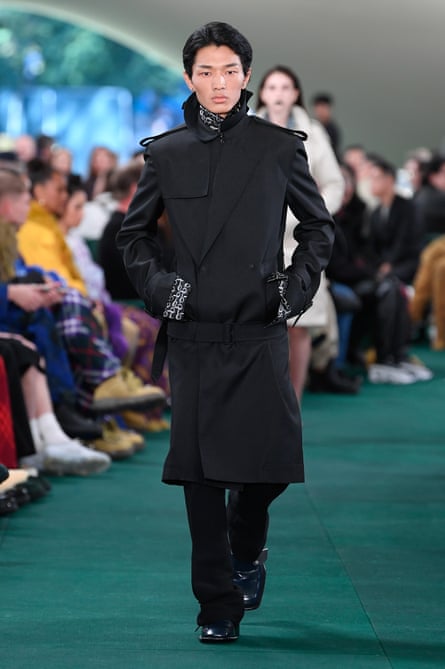 The Burberry trenchcoat looked more desirable and modern on this catwalk, held in a marquee on London's Highbury Fields, than it had for years. This seems a good sign that 37-year-old chief creative officer, Daniel Lee, who grew up in Yorkshire not far from the brand's coat factory, is the right man for the Burberry job.
Unfortunately for Lee, while a killer trenchcoat sends a strong message on the catwalk, what matters on the shopfloor are bags and shoes. Burberry has set an ambitious business plan to boost sales from £2.8bn to £4bn in the next five years, which means growing its slice of the all-important accessories market.
Lee, who scored a cult fashion hit with cushion-soft handbags while designing the Bottega Veneta label in Milan, reprised the theme for Burberry with squishy, huggable bags that slotted under the arm. The focus on leather goods will please Burberry's accountants, but it did not please the Peta protester who managed a brief appearance on the runway holding a banner that read: "Animals are not clothing."
As any politician will tell you, identifying a warm-and-fuzzy vision of Britain that gathers all-comers around the campfire is a thankless task right now. While Frenchness can be conjured up with a striped T-shirt and a well-cut blazer, Britishness is a stubbornly political concept. The totems of British fashion – from punk's safety pins to Savile Row suits, from wellies to football shirts – are watermarked with associations of class and history, and the pitfalls for designers who try to represent Britishness are endless.
The critics who once sneered at Christopher Bailey's nostalgic, romantic Burberry for being a Sunday-night-drama version of Britishness were this season equally cross with Lee, accusing him of appropriating working-class culture by staging a Burberry pop-up at Normans, a traditional London caff.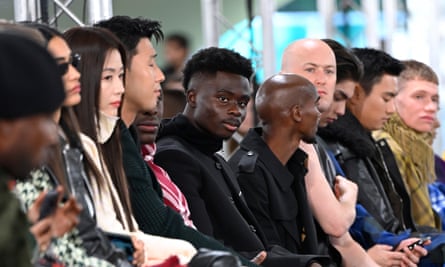 But Lee has a new strategy to talk about Britain without making any of them cross, by landing on every Briton's favourite topic: the weather. Lee told the Business of Fashion website before this show: "The brand's legacy is ultimately the outdoors … that's the thing we have in mind when we work on everything." Hence the focus on trenchcoats, which are as much about weather as they are about fashion.
Coats are Burberry's bread and butter, but this collection will go on sale next summer, so there were strawberry prints too – a symbol of British summertime, given a catwalk twist in the electric blue that Lee has picked as Burberry's house colour. And there was another good sign for Burberry, when the show ended, that the brand is on the right track: the Burberry quilted blankets laid out on each seat were seized upon by the A-list crowd as ad-hoc party favours, with not a single blanket remaining once the venue was empty.