Fashion is awash with a fabric that calls to mind armour: from mesh bras at Mango to miniskirts at Urban Outfitters, chainmail is everywhere.
Earlier this week the fashion label Rabanne and the high street chain H&M released the full lookbook for their upcoming collaboration, which had full chainmail vests and dresses. Meanwhile, in Milan last month, Claudia Schiffer made her return to the Versace catwalk after a six-year hiatus, wearing a chequerboard chainmail dress. In menswear, too, delicate chainmail has been gracing catwalks and torsos.
It is the perfect look for our uneasy times – simultaneously soft but difficult to wear; cold and revealing.
The chunky chain necklaces that can also be spotted everywhere, from Zara to the sustainable brand Pilgrim, offer an interesting counterpoint. "With the chunky statement chain as the ultimate power piece, you can effortlessly toughen up any outfit," says Katrine Seiffert Tiemroth, brand director at Pilgrim.
It is a look that in recent times has arguably been worn most communicatively by Theresa May, the former prime minister. When times were tough, her "strong and stable" necklaces seemed to be a symbol, or reaction against, the prevailing political winds.
"We talk about fashion as armour, usually metaphorically, but chainmail garments are literally armour, protecting our bodies from potential external harm," says Carolyn Mair, a fashion psychologist.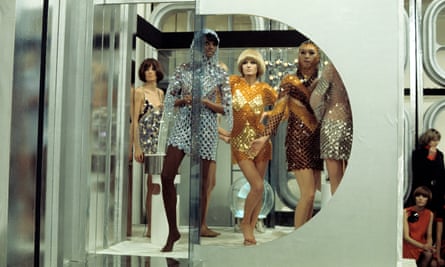 Developed in the third century BC by the ancient Celts, chainmail is often used by designers as a visual signifier of power. It plays with sexuality, which is perhaps why so many of its modern-day outings come in the form of bras and cami-tops. Despite the fact that these skimpier garments would not stand up to the battlefield, they still signal strength and empowerment. As Julien Dossena, the creative director of Rabanne, has put it in the past, modern armour should enable "freedom of movement", which, he says, is "the best power tool for women".
"Chainmail as fashion had its peak with the 1960s designer Paco Rabanne, whose designs blended craft and couture to create clothing that embraced the future while referencing the past," says Dennis Nothdruft, the curator of the Fashion and Textile Museum.
Rabanne, who Coco Chanel once called more metal worker than couturier, told the New York Times in 2002 that chainmail represented "a moment when women emerged to be warriors because they needed to affirm their desire of emancipation, freedom, and liberty. The armour was almost necessary."
It fits that Alexander McQueen, a designer who spoke to female strength – he was once quoted as saying he wanted to dress a woman "who looks so fabulous you wouldn't dare lay a hand on her" – had a chainmail moment for autumn/winter 1998 with his Joan of Arc collection.
But chainmail is also about fun and frivolity: disco-ball dressing. H&M has described its collaboration as "a high-energy collection of shimmering show-stoppers". It is also a seductive fabric. "Chain mail is sexy as it gives a glimpse of flesh underneath," says Mair, "making the garment appear hard and soft simultaneously".
"What's cool about this material is how it drapes on your body, giving off that 'liquid metal' look," says Bianca Piazzolla, the owner of The Party Edition shop on Etsy. The shop has been selling chainmail tops and dresses since 2022 as part of its party and festival collection, which quickly became the bestselling item. "Even with the whole minimalist trend going on, people still want fun, eye-catching outfits for capturing Instagram-worthy moments, as well as for attending music concerts."