When Nadine Ijewere got the call from British Vogue, she was on the top deck of a bus. The number 53, she thinks – it was all a blur. She thought she was on her way to talk to the magazine's then editor-in-chief, Edward Enninful, and its senior contributing fashion editor, Kate Phelan, about her first fashion story for the venerable publication – an exciting prospect for any up-and-coming photographer. But Phelan let her know that Enninful was about to ask her to shoot the cover – a blockbuster featuring Dua Lipa, the actor Letitia Wright and model Binx Walton.
"I was like, huh?" Ijewere says. "In my head I kept going: 'What the fuck, I can't believe this is happening!'"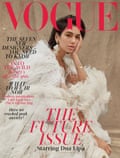 Ijewere is currently in the middle of prepping for Anthesis, her first solo British exhibition, which opened this week at the Huxley-Parlour gallery in Mayfair, London, five years on from that call. In 2018, across Vogue's 28 editions around the world, no black woman had ever photographed a cover – Ijewere became the first in its 129-year history. Two years later, she made history again as the first black woman to shoot the cover of American Vogue, this time alongside fashion editor Gabriella Karefa-Johnson, the first black woman to style a Vogue cover.
In the years that followed, more young black women have photographed the cover, including 21-year-old Kennedi Carter from North Carolina and British-Sierra Leonean photographer Adama Jalloh – but Ijewere was the one to boot the doors open at the age of 26. It had a transformative effect on her life – she now shoots for the likes of Dior, Hermès and Valentino, and you can spot her monograph, Our Own Selves, which came out last year, in bookshops from London to Tokyo.
"Still, to this day, I don't think I have fully grasped the meaning of it," she says of the Vogue cover. "For Edward to want to make a change within fashion and within the magazine, and for me to be given the opportunity to do that with him … It's always going to be one of the pinnacle moments in my life."
With Anthesis, Ijewere joins other world-class photographers who have exhibited at the Huxley-Parlour gallery, including Henri Cartier-Bresson, Vivian Maier and Cecil Beaton, the photographer whose work defined British Vogue in the early 20th century. In fact, there's something of a 21st-century Beaton about Ijewere, whose painterly work also plays with structure and light in startling, unconventional ways. But while Beaton's images documented the British aristocracy and chattering classes, Ijewere photographs a riotous mix of models – black, brown, Asian and white – with a loving eye for what used to be seen as imperfection: gap teeth, freckles, natural hair. Often set in landscapes of sun-baked texture and colour – recent shoots have taken her to the buzzy streets of downtown Dakar and the volcanic sands of the Canary Islands – where her models appear to glow from within.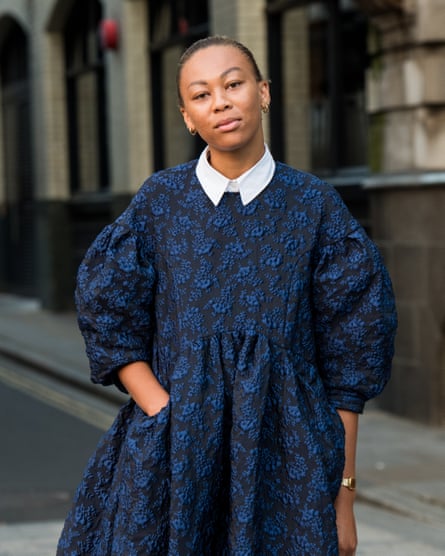 "For me, it is about using this medium to tell my own stories through fashion – creating my own fantasy world of what fashion would look like if people who look like my mum were cast or people that looked like my friends were cast," she explains.
Ijewere was born into a Jamaican-Nigerian household in south-east London; her mother worked in retail and her father was a lawyer. She inherited a love of fashion from her mum, who took pleasure in dressing up along with her two sisters. "There's all these amazing pictures of them on holiday in Venice and Rome and the Caribbean in these fabulous outfits," she says. "Even as a kid, there's all these baby photos of my mum dressing me in these little outfits. There's an image of me where I've got Dr Martens on – who has DMs when they are one?"
As a teenager, Ijewere planned to train as a doctor. But doing a photography A-level – mainly spent cooped up in "the Coffin", as the darkroom at her Bexleyheath grammar school was known – sent her careening down a different path. "I was the one that always had the camera at parties. Back when we used to use Facebook, everyone would be like: 'Nadine, when are the pictures coming out?'"
She won a place on the fashion photography degree course at the London College of Fashion, but remembers "no Asian, no black photographers – mainly all white male photographers" on the syllabus. Disquieted, she ended up striking out and "did my own thing", taking pictures of her friends and those she grew up around in south-east London, doing her own shoots and posting them online.
"I felt I didn't see anyone that looked like me or my family," she says. "I didn't understand that, because there's not one type of beauty or one type of woman. My mum and her sisters – they were buying all these clothes, they were consumers of all these products. Why would they not be included in that?"
These days, there is more diversity in fashion. This year, the Ugandan-Canadian actor Whitney Peak became the first black face of a Chanel fragrance (Coco Mademoiselle), women of colour routinely feature on the cover of Vogue, and you can't throw a stick without hitting a campaign featuring Zendaya. But that progress belies a rumbling discontent within the industry. In October, the fashion platform 1Granary put out a viral meme of the six creative directors at Kering, the powerful French luxury conglomerate that owns Saint Laurent, Gucci and Alexander McQueen. All six are white and male.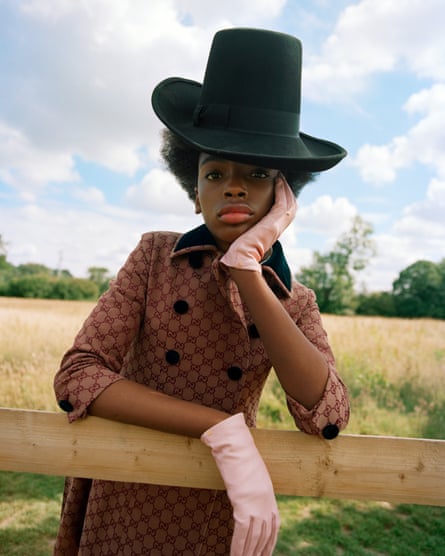 Does Ijewere think fashion is regressing? The question elicits an immediate "yeah". "A lot of my black fellow creators, we've had this conversation that goes like: We were the tokens for certain projects and now we don't even get considered. I can't quite put my finger on it because it's something that has just recently happened. But I definitely have noticed the campaigns being shot, the editorials – it's all white men again."
Even now, as one of the most high-profile black photographers in the industry, she grapples with her work being labelled and marginalised. "I think at times people try to put me in this box: Nadine Ijewere, black female photographer who shoots black people," she sighs.
Once, in the middle of a client meeting, a white man asked her: "Do you shoot people that look like me?" She was too stunned to react. To resist that flattening of her identity is to insist on her own capacity to evolve as an artist: "If people get used to a certain idea of what your work is about, you can feel stuck."
"I'm a photographer, at the end of the day," says Ijewere. "Yes, the black body is an integral part of my work, but it doesn't solely represent me. For me, it's about showcasing different types of beauty within fashion." As fashion continues to tussle with its troubling lack of representation, long may that work continue.