Something uncanny – or, unheimlich – is happening in fashion. A shift of doppelgangers is playing with ideas of identity and our deepest, darkest fears surrounding dystopian technology, simulated realities and – the horror! – someone copying our outfit.
For Acne Studios' autumn-winter 2023 campaign, Kylie Jenner was photographed alongside a replica of herself in dirty denim while last year, a Gucci campaign depicted a femme fatale Billie Eilish confessing her love to … Billie Eilish. Meanwhile, Kaia Gerber recently went face-to-face with a futuristic lookalike for Alexander McQueen's cruise 2023 campaign, visibly haunted by her stylish simulacrum. Fashion is in its unheimlich era.
There's more: for its spring/summer 2022 show, Balenciaga deepfaked US contemporary artist Eliza Douglas, cloning her so that she modelled all 44 looks. And earlier this year, 1990s model Eva Herzigová collaborated with talent agency Unsigned and Dimension Studio to create a bookable, digital avatar of herself.
As well as doppelgangers, there's also identical twins – a more everyday occurance of doubling. At London fashion week last month, designer Mowalola Ogunlesi spliced T-shirts together and had models walk in pairs as if melded by the clothes on their backs. "It's giving twin-personality," she told i-D at the time. "We're all different people, we have a dualness, good and bad – no one's perfect." There was also a moment of uncanny telepathy in Milan last year: after a show in 2018 where models carried replicas of their own heads, Alessandro Michele's Welcome to Twinsburg show for Gucci saw 68 pairs of identical twins wear matching looks, inspired by his monozygotic mother. Then, just a few hours later, Sunnei unveiled their own fraternity of twin models. "In Italian we'd call it a scherzo del destino, a quirk of fate," say Sunnei's founding duo Loris Messina and Simone Rizzo. "We realised that something weird was going on while working on our casting, and it was probably the same for [Gucci]."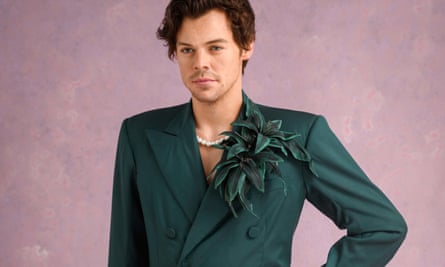 While fashion might like to claim the clone as its own, the doppelganger trend has also populated pop culture. For her MTV video music awards performance, Olivia Rodrigo rounded up a troupe of matching backup dancers. Drake, meanwhile, was accused of using a lookalike of Kim Kardashian on his cover for Search & Rescue, while Harry Styles melted hearts with seven waxworks of himself this summer.
In the literary world, Naomi Klein investigated the psychology of doubles with her book Doppelganger, while Deborah Levy drew on the pandemic for her novel August Blue to explore how PPE made us all eerily similar. Elsewhere, Canadian photographer François Brunelle's cult I'm Not a Look Alike project, which finds and photographs similar-looking people from across the world, has had a second coming. "People have a fascination for the phenomenon," he says.
So why are we seeing double? Aesthetically, there's something enigmatic about spitting images. We also have always had a thing for replicating icons. This has intensified with technology and artificial intelligence; just look at TikTok's viral lookalike filter and obsession with celeb lookalikes. From deepfakes to holograms, the naivety of the photocopier has been replaced with the real possibility of cloning humans.
"It's now presenting a real threat to what's real and what's fake; though identity itself can be emulated it's the blurring of reality and fantasy with zero disclaimers that poses the real concern," says drag superstar Alexis Stone – real name Elliot Joseph Rentz – who has turned herself into more than 250 celebrities. Her most convincing effort yet saw her regenerate into Jennifer Coolidge for Diesel, tricking much of the fashion press. "Even Jennifer messaged me to say, 'Did I go to the Diesel show and forget?' which was the ultimate cherry on top."
Brunelle reckons it's a worrying trend: "The fact that you can imitate just about anything digitally is disturbing and brings us back to the question: who am I? Who are we as humans? The fight between man and machine has reached a totally new level."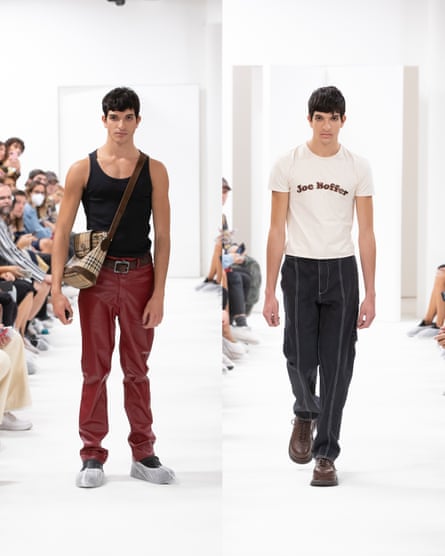 So is individuality extinct? Some cloning creatives don't seem to think so; Carlijn Jacobs, the photographer behind Acne Studios' Kylie Jenner campaign, aimed to "celebrate her individuality by doubling her", for example. But with the same access to the same content amplified by the same algorithms, we are all increasingly duplicates of each other, trying to escape our identikit identities.
"We live in a world of doppelgangers, as it is highly standardised and repetitive; not only in fashion but also in our daily lives, we are submerged in them," Messina and Rizzo say. "Our industry is no exception, both part of this system and, on the other hand, inspired by it." Perhaps, the fashion house is the most unheimlich of them all.
To read the complete version of this newsletter – complete with this week's trending topics in The Measure and your wardrobe dilemmas solved – subscribe to receive Fashion Statement in your inbox every Thursday.