When Kylie Jenner launched her fashion brand KHY on Instagram last week, she did so wearing a single garment: a black "vegan leather" ankle-grazing trench which costs $198. There are already controversies surrounding the new label, but the fact that the beauty mogul chose to launch her foray into so-called "affordable luxury" fashion with a leather trench coat says a lot about this year's chosen outerwear.

The trusty puffer coat – a cold day go-to for aeons – has officially had its final puff, and this slicker and more cinched silhouette has taken its place. At last month's Erdem show at London fashion week, Vogue's Anna Wintour was pictured front row in a postbox-red leather trench coat; she was also spotted recently in a Ribena-coloured version. Kylie Minogue attended the Burberry show in a bottle-green style with the collar popped up. Such is the leather trench coat's ubiquity it has been affectionately dubbed "the LTC" on social media.
This is translating into sales. A £350 black leather longline version at M&S is completely sold out in sizes spanning a UK 6 to 24; at Cos a £650 metallic double-breasted version has also sold out, while faux-leather versions starting from £25 at Asos are "selling fast". John Lewis has increased its buy of leather trenches by a third from last year.
The leather trench has, in fact, been the coat of choice for the Kardashian-Jenner family for several years, according to Emma Spedding, acting executive fashion news and features editor at British Vogue. "Like balloon arches and lipliner, it's something that is instantly recognisable as a very 'Kardashian-Jenner' look," she says, "and this family certainly knows how to turn their signature aesthetics into business opportunities."
The leather trench revival has been spearheaded by Balenciaga. The Paris-based design house definitely has a track record with winter coats: it was a red puffer coat in a 2016 Balenciaga collection which led to the puffer proliferation on the high street. Fast forward to today and it's the Matrix-esque glossy belted trench coats from its autumn/winter '23 catwalk show that are now being emulated. Instead of the traditional gabardine fabric invented by Thomas Burberry in 1879, slick leather trenches lean heavily into the garment's military connotations.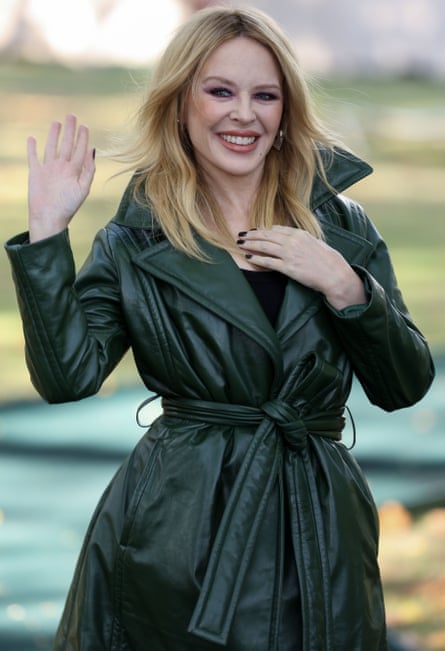 Demand for leather has been linked to environmental issues: a 2009 Greenpeace report concluded it was fuelling the destruction of the Amazon – not just as a byproduct of beef but in its own right. And trench coats made from leather alternatives are also becoming popular. On secondhand clothing platform Depop, for instance, searches for trench coats made from pleather, an artificial leather, are up 200%.
But pleather also has its problems, as it's often made from synthetic plastics including the crude oil-derived polyurethane. "It bothers me that pleather is paraded as an ethical choice," says Eibhleann McMahon, creative director at British vintage store Rokit. "I don't eat meat but I would much rather choose vintage leather over pleather. Any of the world's resources that are needed to go into the production of that garment have already been done."
Many brands, such as KHY, use the wording "vegan leather" to describe leather that isn't derived from animals. However, last year Portugal banned the term. The Portuguese government claimed while "vegan leather" might sound ethical to consumers, if the material is in fact made from synthetic plastics, such as pleather, it could be misleading.
Fortunately this is a look that can successfully be achieved secondhand.
"It's a holy grail item," says McMahon. "We are living in a time of austerity, and a leather trench coat is a hardy piece of clothing."