It has been the fashion world's most talked-about moment of the year so far: six years after she left the fashion house Céline, the revered British designer Phoebe Philo has returned with the first collection of her own.
On Monday her fans were finally treated to first sight of the clothes, which, on the whole, reflected the understated, simple but extremely stylish way of dressing with which she is synonymous.
Lovers of her work – known as "Philophiles" – have been left on tenterhooks for a long time. In 2021, it was announced that she was coming back with an eponymous brand. In July of this year, her website invited fans to register for a mailing list. Then during Paris fashion week last month, Philo announced that her return was set for 30 October.
Her signature simple elegance won her avid fans during her time as creative director of the French house Céline, a position she held for the best part of a decade.
This collection sees that style in spades – classic cuts and muted colours, such as "shroom", "cigar" and "bitter brown". There are high-necked polo necks ideal for tucking hair into – a styling trick that Philo championed – among club loafers with architectural heels, squared-off toes and tailored blazers in wool mohair.
But there are also some more adventurous designs, including high-waisted wool trousers with zips that run the length of the leg, which can, the website states, be "worn open" (already sold out).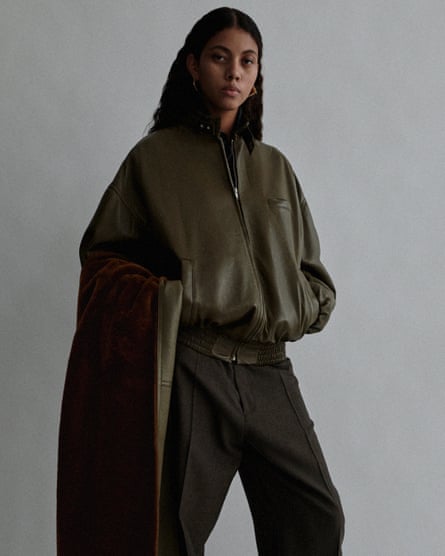 A coat made from viscose twill has a silhouette not dissimilar to that of Big Bird, with all-over embroidery and elongated bell sleeves. A tasseled leather bomber jacket with snapped stand collar is a look that, in less skilled hands, could have come out a bit Halloween.
The prices are astronomical: £5,900 for a leather jacket with an attachable scarf; £12,000 for a double-breasted shearling coat; £6,200 for a large, chocolate brown bag; £700 for a pair of leggings. A white T-shirt – admittedly a very smart one – for £800. But some items are already sold out, including a necklace that repeats the word "Mum" over and over, in sterling silver, which can no longer be yours for more than £3,000.
Part of that is due to the limited runs she has produced. Her first "edit" is of 150 styles to be released between now (with this first drop, which is being called A1) and mid-December. On average, no more than 100 of each item have been produced. Part of the rationale is sustainability.
The collection came with a statement: "Our aim is to create a product that reflects permanence. The Phoebe Philo business model is designed to create a responsible balance between production and demand. For us, this means producing notably less than anticipated want."
Part of that is likely to be about building on the fervour, which is already sky-high.