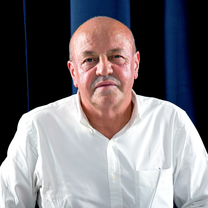 Translated by

Roberta HERRERA
Published



Nov 3, 2023
Thierry Andretta, president and CEO of the leather goods house Mulberry, which was founded half a century ago, is the latest guest on the LuxurynsightXFashionNetwork podcast. In this episode, in English, the executive delves into how the leather goods company has effectively positioned itself as a paragon of British excellence and how it exports its craftsmanship worldwide, with Godfrey Deeny, FashionNetwork.com's international editor-in-chief.
Upon assuming the role of CEO at Mulberry in March 2015, the Franco-Italian leader's mission was to "establish the brand on the global stage, expand beyond the confines of the UK, and implement a direct-to-consumer strategy." At that time, the British leather goods brand had "many wholesale points of sale, much like the majority of brands, but lacked a substantial retail presence," noted Andretta.
Diversifying brand distribution
A connoisseur of contemporary challenges in the luxury industry, Andretta, former CEO of Lanvin and ex-managing director of Buccellati, has also accelerated the digital transformation of Mulberry. Today, more than a third of the brand's sales originate from e-commerce, compared to 7% eight years ago. In 52 years of existence, Mulberry has, much like the success story of Burberry, evolved from a small family-run enterprise based in the southwest of England to a globally renowned label. It's a harmonious blend of tradition and modernity.
To establish the brand as a key player in the luxury leather goods realm, offering both durable and desirable products, Mulberry's management has been strategically emphasizing its European craftsmanship. "We have made substantial investments in our manufacturing facilities, and we take great pride in employing 600 skilled craftsmen in our two UK factories, responsible for producing over half of our handbags," said Andretta.
In his view, one of the secrets to longevity in the luxury landscape is "not only having access to the latest technological advancements but also training our artisans. Since 2006, we have established an apprenticeship program, and today, the majority of our talents are former apprentices who have steadily risen within the company," he underscored.
Intensifying focus on the circular economy
The evolution of consumption habits post-pandemic, coupled with inflationary pressures, has seen the rise of circular initiatives in the fashion and luxury industry. "Consumers have developed a profound attachment to their bags; they are reluctant to part with them but prefer to repair them, giving them a second life," said the CEO. Andretta also mentioned that the brand founded in 1971 has been offering a handbag repair and restoration service for the past 35 years. 
Branded as "Lifetime Repairs," this initiative was created with circularity and sustainability in mind. Its expert artisans based in the Somerset factory situated in the southwest of England restore 10,000 bags annually. Their tasks encompass cleaning and repainting leathers, sewing in new linings, re-gilding logos, attaching missing rivets, and replacing worn-out metal buckles.
"We launched our 'pre-loved bag program' at the end of 2020, and it has been doing very well. Currently available across the UK, Western Europe, and the United States, we're set to launch it in China within a few months," added the CEO of the luxury brand. On this platform seamlessly integrated into the Mulberry website, a selection of handbags for both men and women is on offer, ranging from €200 to €1,117, approximately half the price of new items (for context, the price range of its "classic" collection spans from €460 for a mini size to €2,750).
While Mulberry also offers a limited range of men's and women's ready-to-wear clothing, leather goods still represent 90% of its business. Andretta emphasized that the brand will continue to focus on its core competencies in the years to come.
The house, under the ownership of Malaysian billionaire Ong Beng Seng and his wife Christina, who have been actively seeking to appoint an independent non-executive director specialising in international expansion strategies to the board for several months, has recently decided to decline the Fraser Group's interest, the conglomerate holding a 36.8% stake in the company.
Copyright © 2023 FashionNetwork.com All rights reserved.