From bakeries to book shops, political parties and even individual authors, it has never been easier for consumers to flaunt their cultural allegiances through the clothes they wear. Now, a new category has entered the merchandise space: mental health.
Online sellers offer sweatshirts in soothing millennial pink with slogans such as "Mental Health Matters" or "Anxious But Doing It Anyways". Others simply state the brand names of antidepressants. Bestsellers on Etsy include graphic T-shirts with "Depressed But Make It Hot" and "This Barbie Takes Prozac".
Both high-street and high-end brands are getting involved. Streetwear favourite Praying sells a "You Matter Don't Give Up" grey hoodie for £137 while Primark's £7 "empowering" T-shirts include statements such as "Surround Yourself With People Who Bring Good Vibes". This week, Stella McCartney launched a limited-edition bag featuring words by the American poet Cleo Wade, "The ride is long but it leads you home". It is part of a collaboration between the designer and the mental health advocate Deepak Chopra, championing equine therapy.
While the subject of mental health has historically been resigned to covert helplines and hushed doctors offices, it is now much more widely acknowledged and discussed. On TikTok the hashtag mental health has been viewed more than 114bn times, with users, some with millions of followers, documenting their "bad mental health days" and talking about therapy.
"This type of clothing can open up a conversation," says psychologist Dr Audrey Tang. "In the same way a blue badge allows you to park in a disabled space, wearing these type of tops expresses and gives an insight to others about how you are feeling."
"A lot of people cope with mental health issues through humour," adds Sarah Russell, the founder of the Etsy store Grocery Apparel, which sells "Hot Girls Take Antidepressants" T-shirts, among others. "Having something silly like a T-shirt that makes it more relatable can make people realise they are not alone in dealing with it."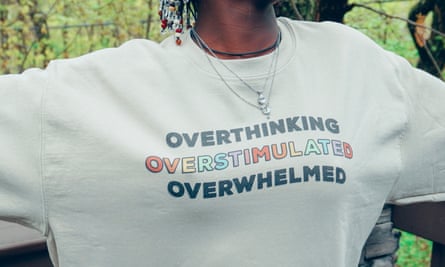 Travis Baskin, who owns a brand called Own Your Stigma that sells sweatshirts with the slogans "Coffee, Dogs and Mental Health" and "I Feel All The Feels", says the aim of the brand is to encourage conversation. It seems to work: "Someone was wearing our T-shirt that says 'It's OK, not to be OK' on a bus and a stranger came over and started talking to them about it. It normalises it."
Much lies in the visual allure of the clothing itself. Bright colours and slogans are social media catnip. The messaging also encourages interaction through likes and comments, all elements that the algorithm rewards.
It all goes to prove that, as with everything else, even psychological wellbeing can be commodified. Last year, in a series dedicated to speculating trends for 2023, Retail Wire revealed "Mental health-oriented messaging is quickly becoming table stakes for retailers that cater to next-gen consumers."
However, similar to the way in which wearing a Renaissance tour T-shirt or carrying a tote bag with the name of your favourite deli signifies not only your love of Beyoncé and bagels but also your cultural capital, there is an argument that mental health merchandise denotes much more than your emotional state. In the same way therapy speak has become part of the daily lexicon, is it reductive to those who have a genuine anxiety disorder?
Tang argues that while slogan clothing may encourage conversation, it may still not leave wearers equipped with the ability to handle deeper conversation around it. She also sees problems with defining oneself via one's mental wellbeing. "A mental health issue is a diagnosis and series of symptoms," Tang says. "It is not your identity."
Tang also notes concerns with people wearing mental health merchandise for "secondary gains", saying: "The primary gain of disclosing a medical condition or illness is for treatment. The secondary gain is the attention that comes from it. It's the 'Are you OK?' from strangers."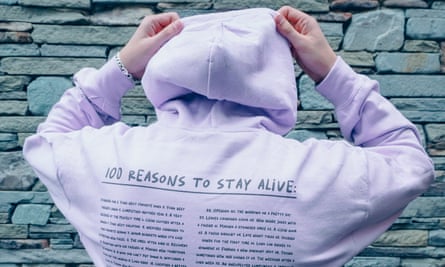 Fashion and mental health have a problematic past. In 2001, Alexander McQueen set his show in a space that seemed to mimic a padded cell. (Vogue described it as: "Demented girls, wearing hospital headbands and everything from extraordinary mussel-shell skirts to impossibly chic pearl-coloured cocktail dresses, slithered and strutted while uselessly attempting to fly over the cuckoo's nest.") Six years later, Vogue Italia featured a shoot by Steven Meisel entitled "Super Mods Enter Rehab", which included the model Lara Stone being dragged by nurses down a hospital corridor and locked up in cells.
In 2019, the Gucci show opened with a series of models walking on a conveyor belt wearing what appeared to be a fashion take on straitjackets. In an unplanned protest, one of the models, Ayesha Tan-Jones, held up their hands, on which they had scrawled the words "mental health is not fashion". Afterwards, they posted a statement to Instagram: "Presenting these struggles as props for selling clothes in today's capitalist climate is vulgar, unimaginative and offensive to the millions of people around the world affected by these issues."
So, is the commodification of mental health reductive? Russell says she wouldn't be "terribly surprised" if customers were buying medical themed merchandise without actually experiencing the conditions. "But," she says, "no one is going to go to their doctor and say: 'I want this medication because I saw it on a T-shirt'."
To read the complete version of this newsletter – complete with this week's trending topics in The Measure and your wardrobe dilemmas solved – subscribe to receive Fashion Statement in your inbox every Thursday.