"Sunday: 9am, get up, strip the sheets … from 9.30 to 11am, we are cosying up on the couch, we have our little knit blanket, a coffee and we are going to watch a couple of episodes of Gilmore Girls … as we are doing that we are scrolling Pinterest to find a soup recipe, like a tomato bisque or a creamy chicken noodle, then order the groceries, 11 to 11.30 get out the ice roller, de-puff and get some structure back in your cheekbones, 11.30 to 12.30, take a bath, with epsom salts."
While this may sound like an internal monologue, it is in fact part of a new TikTok trend for videos guiding viewers on how to spend their time – detailed itineraries for everything from a "Friday night in" to "a day at the office" and even sick days are racking up hundreds of thousands of views.
This particular one is called Lazy Cozy Fall Sunday and is the work of Karley Fiebig, a 29-year-old American IT manager turned content creator who is spearheading the trend. Fiebig (pictured above) posted her first itinerary video in September suggesting ideas for what do on a Sunday at home. In the first two days after posting she gained over 40,000 followers. That video has since racked up over 450,000 views while the hashtag #weekenditinerary has been viewed over 16 million times.
"I get messages from people all the time saying 'I need you to tell me what to do,'" says Fiebig. "People want structure. It's sort of being a life coach for them. They find it helpful."
"People want to feel like they are participating in the norms of society," adds Dr Sandra Wheatley, a member of the British Psychological Society. "They want to be part of the herd. There is a great deal of comfort in knowing other people are doing similar things to you. People can use them as a benchmark to see if how they are choosing to spend their time is like everyone else."
Videos giving viewers a look inside daily routines aren't a new concept. The #GetReadyWithMe hashtag, where everyone from teenagers to A-listers broadcast themselves doing their skincare or makeup, have billions of views. More recently, morning and night-time routines became popularised, documenting everything from elaborate bed making to making dinner in an air fryer. However, what makes itinerary videos different is that instead of watching someone else chronicle their day, you watch them tell you what to do with your own time.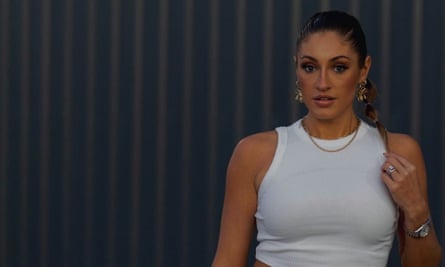 Fiebig's particular power seems to come from honing in on the specific. She has a plethora of playlists to set certain moods, lists of particular "comfort" films to watch and even ideas on clothing. TV snacks go in "cute dishes," water in a fancy glass and takeaways are placed on good plates.
"A lot of the time it's things you may already be doing but just doing them a little differently," Fiebig says. "It's glorifying your life without it being expensive or superficial." She believes part of her appeal is that she focuses on accessible scenarios. "Getting ready on yacht isn't that relatable. People get caught up comparing themselves. I show them that going to get a coffee can be a highlight of their day."
Professor Crystal Abidin, an anthropologist and author of a forthcoming book, TikTok and Youth Cultures, says part of the appeal is that it taps into "the neoliberalism" of self-care. "It is the idea that you are individually responsible for your happiness. It's the internalisation that you can better your standing even if structurally things look pretty abysmal."
The majority of these types of itinerary videos are aimed at childfree and often single women. Fiebig, whose bio reads "for the girls" with an emoji of a martini glass, says loneliness is an issue for many of her followers. "There are a lot of women in their late 20s and early 30s who feel like they don't know what they are doing. If you don't have a traditional 9-to-5 job and marriage and kids, then your time isn't as structured. Sometimes they perceive their life to be boring. I show them how to tweak it." Fiebig says she gets hundreds of messages everyday. "People tell me I have changed their life and helped them get out of a rut."
Wheatley describes free time as "the luxury of choice". For those that struggle with decision making, sometimes lots of options can be overwhelming. "These type of videos are goal setting," Wheatley says. "It's taking control of your own mental wellbeing to try and find constructive things to do. You could feel a sense of belonging but there's also a double whammy of feeling a sense of accomplishment."
To read the complete version of this newsletter – complete with this week's trending topics in The Measure and your wardrobe dilemmas solved – subscribe to receive Fashion Statement in your inbox every Thursday.