On 24 February 2022, the editor-in-chief of Vogue Ukraine, Venya Brykalin, woke up in Milan, where fashion week was in full swing, to the news that his country had been invaded. Nevertheless, he headed out as planned to the Max Mara show, and watched as a parade of luxurious cashmere coats sashayed past him.
"A sentiment that a lot of Ukrainians keep sharing is that doing your job is the most efficient way of staying sane," he said this autumn by video call.
Many observers might ask what role a fashion magazine could play in a country that is defying a full-scale invasion. But fashion is powerful. Since February 2022, Volodymyr Zelenskiy has stuck faithfully to a utilitarian wardrobe of sweatshirts, cargo pants and military boots. It has become a potent means of the Ukrainian president projecting a sense of peril and readiness for action.
On the streets of Kyiv, there is a sense that taking pride in one's appearance is a way of demonstrating defiance – and insisting on normality – in the face of the Russian invasion.
That said, fashion has not been Vogue Ukraine's main focus since the full-scale invasion began.
"The first news about the war appeared on our site on 24 February 2022. We didn't hesitate – there was no meeting – we just started posting," said the magazine's features editor, Daria Slobodianyk. "One of the first things we did was post a list of guidelines, about what to do in the case of an air-raid siren for example, essentially answering our own questions."
She was speaking in the hotel suite in central Kyiv that the magazine rents to use for meetings, while the editorial team, now scattered around Ukraine and abroad, works remotely.
"We didn't think that we had to be a space of escapism and pretend that nothing was happening," said Brykalin. Instead, the team used their brand to keep communicating about the war, posting stories and photography on the besieged city of Mariupol, on the destruction of buildings in Kharkiv, on women giving birth in bomb shelters – as well as campaigning for luxury brands to pull out of Russia. In time, they introduced more classically "Vogue" subjects – fashion, celebrity and style – to their social media feeds.
Across the border, Vogue Russia was promptly mothballed, along with all the other titles owned by US company Condé Nast. "We hope that this is not a farewell letter but rather just a pause and soon we will be able to reunite with you," ran a letter from the editorial team to readers, dated 9 March 2022.
The Ukrainian Vogue team kept working without a day's pause, and the following spring the magazine returned to print – an issue symbolically dubbed "Edition 1".
It was a very different magazine from its pre-invasion equivalents. For the first time in its history there was no model on the front page. Instead, the cover was abstract, with a strip of yellow-gold dissolving into a deep blue, an image derived from the exposure of a reel of film. Vasylyna Vrublevska's image alludes to the colours of the Ukrainian national flag, but also summons up flames raging beneath a night sky. The simple coverline translates as "the path of the unbreakables".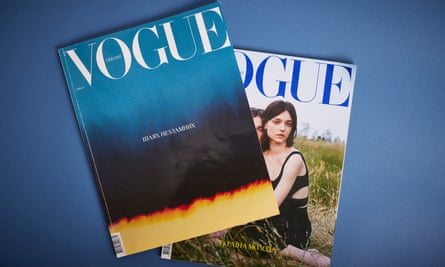 The history of Vogue magazine is intertwined with conflict. British Vogue spun off from the original US edition when copies could no longer be shipped across the Atlantic during the first world war. During the second world war, British Vogue was produced in the teeth of the blitz by its unflappable editor Audrey Withers, who also commissioned reportage and photography by Lee Miller. Her photographs of Buchenwald and Dachau, for example, were published in the June 1945 issue.
Inside issue one of wartime Vogue Ukraine, where the usual advertising by luxury international brands was conspicuously absent – just as many designer shops, including Chanel, Dior and Louis Vuitton, remain closed in Ukraine – the editorial pages swapped glamorous fashion shoots for a series of essays on Ukrainian "heroes", from the head of military intelligence, Kyrylo Budanov, to Ukraine's national synchronised swimming team.
It was the bestselling issue of the magazine since it originally launched in 2013, said the Vogue Ukraine publisher, Julia Kostetska, with 44,000 copies coming off the presses.
"Vogue Ukraine has never been a magazine about just clothes and just trends," said Brykalin. "Part of that is in our culture: we jumped on the capitalism bandwagon quite late on. So for us, it wasn't counterintuitive to find this new tone of voice. I think what happened is that we recalibrated into talking more about people. In this issue, and the issues that follow, what we have been doing is sharing people's stories."
Finding a new tone for the wartime magazine has been a matter of instinct. When Annie Leibovitz photographed Olena Zelenska, the wife of the Ukrainian president, for a digital cover of Vogue in summer last year, the shoot received criticism from some quarters for trivialising the conflict. The photographs and piece were initiated by US Vogue, with the Ukrainian team involved only to provide logistical help on the ground. But, said Brykalin: "I personally can tell you that I haven't met one person, one Ukrainian who has been negative about the story. Me personally, I liked the images. And I know that for a lot of Ukrainians, it was a big deal to feel that our situation was not being shoved under the carpet."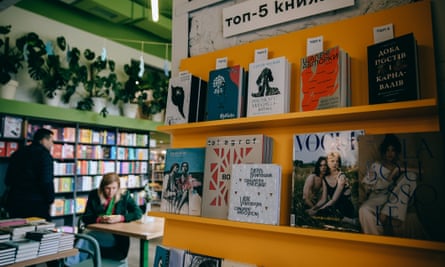 Vogue Ukraine is now being published quarterly. The second issue, summer 2023, was themed around "Ukrainian youth". The most recent issue, autumn 2023, carries the coverline "The will to win", with three different covers showing Ukrainian sportswomen: tennis player Elina Svitolina; fencing star Olga Kharlan, and high jump world champion Yaroslava Mahuchikh. Gradually, more fashion content has been introduced – but also articles on mental health, interviews with the women campaigning for the release of Azov battalion prisoners of war, and a shoot with people who have suffered amputations as a result of injuries.
Slobodianyk shrugs off the difficulties of putting together a magazine during blackouts, as happened last winter, or night after night of missile attack, as happened early this summer. "The main issue has been sleep deprivation," she said. "But while I don't want to devalue the hardship in Kyiv, it's nothing compared to cities in the south and east of Ukraine, like Mykolaiv and Kherson."
"The biggest challenge right now for us is logistics," said Brykalin. "Sometimes we feature people who are literally in the frontline. You text them in the hope that they're alive and fine. You wait for them to go on rotation. And finally you meet the person, and then you hope that you won't end up having to end up adding some tragic details to their story. So that's challenging, but I would agree with Daria: compared with what other people experience, it's not a hardship."